Sigma Nu Fraternity
Love, Honor, & Truth
Sigma Nu is dynamic, diverse, and united into a strong brotherhood based on the principle of honor. Sigma Nu is one of the strongest fraternities nationally with 261 chapters. Our national alumni are grateful for their years in the house and include the likes of Harrison Ford and Pat Riley. Sigma Nu at Cornell occupies a beautiful house overlooking both the gorge and Cayuga Lake. The brotherhood here believes in maintaining a strong mind, body, and soul as evidenced by our outstanding performance in academics, athletics, and service. In addition to participants in varsity football, baseball, wrestling, lacrosse, and track, Sigma Nus are also members of the Cornell Tradition, the Red Key Society, Adopt-a-School, and Big Brother-Big Sister of Ithaca.
But what makes Sigma Nu unique is the tightness of the brotherhood. Once a candidate becomes an active brother, he is invited to live in the house until he graduates from Cornell. This creates an atmosphere where seniors, juniors, and sophomores live together enjoying the good times and helping one another through the hard times. The house of 55 is also kept closely knit by gathering together each night for dinner.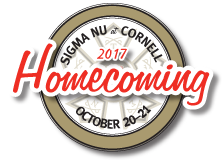 COME HOME TO SIGMA NU
AT CORNELL HOMECOMING 2017

OCTOBER 20–21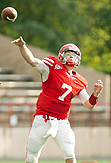 Cheer on Big Red & Cheer on Sigma Nu!
The brothers of Sigma Nu have a long history of athletic achievement at Cornell across many sports. This fall, we have 20 brothers on the varsity football team, following in the footsteps of other Sigma Nu brothers who played on the gridiron, including Cornell Athletic Hall of Famers Jim VanBuren '55, Michael McGrann '88, Chad Levitt '97, and Eric Krawczyk '98.
When you watch the Big Red, be sure to cheer on your fellow Sigma Nu brothers!
Mason Banbury '19 (CALS) • #91 DL • East Grant Rapids, MI
Dalton Banks '19 (CALS) • #7 QB • San Antonio, TX
Oscar Boochever '19 (A&S) • #40 FB/TE • Washington, DC
Daniel Crochet '18 (CALS) • #32 LB • Stone Mountain, GA
David D'Amelio '19 (ILR) • #61 OL • Naples, FL
Geno Demarco '18 (A&S) • #93 DL • Perrysburg, OH
Gustavo Dorsett '19 (Hotel) • #6 WR • El Paso, TX
James Eaton '18 (Hotel) • #92 DL • Tulsa, OK
Kurt Frimel '18 (CALS) • #48 LB • Cream Ridge, NJ
Jack Gellatly '18 (A&S) • #30 RB • Bellevue, WA
Nick Gesualdi '18 (CALS) • #41 S • Sykesville, MD
Austin Holmes '19 (CALS) • #2 CB • Silver Spring, MD
Seth Hope '18 (CALS) • #56 DL • Fort Thomas, KY
Curt McLeod '19 (CALS) • #97 DL • Hingham, MA
Tim Morales '19 (HumEc) • #39 CB • Rumson, NJ
Hayes Nolte '18 (A&S) • #82 TE • Blue Bell, PA
Lars Pedersen '19 (CALS) • #29 WR • Wilmington, VT
Mac Pope '18 (CALS) • #45 FB/TE/LS • Pittsburgh, PA
Al Sandoval '18 (Engr.) • #68 OL • Wixom, MI
Henry Stillwell '19 (A&S) • #70 OL • Richmond, VA

Be sure to join us for Homecoming 2017, when Cornell takes on Brown, and check out the 2017 Cornell football schedule for other games.
Welcome to the Village: Sigma Nu Alumnus Working to Reshape Primary Health Care at VillageMD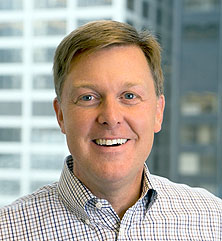 The healthcare system in the United States is in the headlines almost daily. Many Sigma Nu brothers today work in healthcare across a broad range of job roles, including physicians, administrators, medical-device manufacturers, and pharmaceutical sales reps.
Tim Barry '93 is the founder and CEO of VillageMD, a Chicago-based company that is innovating primary care. VillageMD is a leading national provider of primary-care management services for healthcare organizations moving toward a primary-care-led, high-value clinical model.
Social Networking