Sigma Nu Fraternity
Love, Honor, & Truth
Smart Snakes: Learn about Jamey Greenbaum's ('17) "Defining Moment" at Cornell Engineering. Jamey will be graduating in December 2017 and then staying on at Cornell to pursue his master's of aerospace engineering through the spring of 2019.
Sigma Nu is dynamic, diverse, and united into a strong brotherhood based on the principle of honor. Sigma Nu is one of the strongest fraternities nationally with 261 chapters. Our national alumni are grateful for their years in the house and include the likes of Harrison Ford and Pat Riley. Sigma Nu at Cornell occupies a beautiful house overlooking both the gorge and Cayuga Lake. The brotherhood here believes in maintaining a strong mind, body, and soul as evidenced by our outstanding performance in academics, athletics, and service. In addition to participants in varsity football, baseball, wrestling, lacrosse, and track, Sigma Nus are also members of the Cornell Tradition, the Red Key Society, Adopt-a-School, and Big Brother-Big Sister of Ithaca.
But what makes Sigma Nu unique is the tightness of the brotherhood. Once a candidate becomes an active brother, he is invited to live in the house until he graduates from Cornell. This creates an atmosphere where seniors, juniors, and sophomores live together enjoying the good times and helping one another through the hard times. The house of 55 is also kept closely knit by gathering together each night for dinner.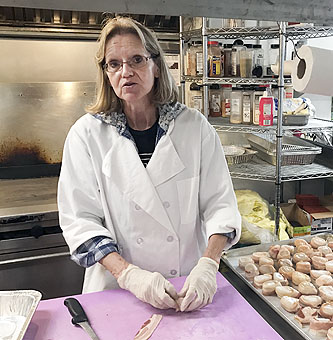 Meet Cindy Smith, Sigma Nu's Top Chef
Sigma Nu has been fortunate to have its share of great cooks over the years, but our current cook likely tops them all.
Cindy Smith has been in our kitchen for the last seven years, and she helps make meal time at Sigma Nu extra special. The brothers know they are always going to get an excellent meal, and the quality of the food entices virtually all the live-outs to come to the house for dinner. This brings our brothers closer together than other houses, because they spend time as a chapter almost daily.
Snakes Helping Snakes:
My Summer Internship at S3 Partners
This past summer, Nate Porter '18 interned at a financial data-analytics firm in New York City called S3 Partners, located in midtown Manhattan. The company provides extensive short-side market research and data analytics to clients (primarily hedge funds) through numerous platforms, including a financial software application that provides real-time short-interest data via a Bloomberg terminal. During his time at S3, Nate worked closely with Head of Research Ihor Dusaniwsky '84, providing extensive short-side research using S3's data-analytics software and the Bloomberg terminal.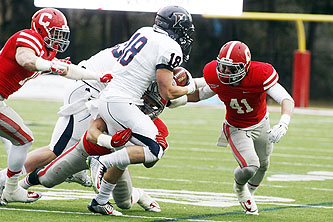 Nick Gesualdi '18 and Kurt Frimel '18 Earn All-Ivy League Football Honors
Congrat's to our Sigma Nu brothers who earned All-Ivy distinction for their play on the gridiron this fall. Senior safety Nick Gesualdi '18 was a first team selection, and senior linebacker Kurt Frimel '18 was a second team pick. Additionally, the Cornell football team placed three student-athletes on College Sports Information Directors of America's academic all-district team, and they are all Sigma Nus!
Social Networking