Sigma Nu Fraternity
Love, Honor, & Truth
Sigma Nu is dynamic, diverse, and united into a strong brotherhood based on the principle of honor. Sigma Nu is one of the strongest fraternities nationally with 261 chapters. Our national alumni are grateful for their years in the house and include the likes of Harrison Ford and Pat Riley. Sigma Nu at Cornell occupies a beautiful house overlooking both the gorge and Cayuga Lake. The brotherhood here believes in maintaining a strong mind, body, and soul as evidenced by our outstanding performance in academics, athletics, and service. In addition to participants in varsity football, baseball, wrestling, lacrosse, and track, Sigma Nus are also members of the Cornell Tradition, the Red Key Society, Adopt-a-School, and Big Brother-Big Sister of Ithaca.
But what makes Sigma Nu unique is the tightness of the brotherhood. Once a candidate becomes an active brother, he is invited to live in the house until he graduates from Cornell. This creates an atmosphere where seniors, juniors, and sophomores live together enjoying the good times and helping one another through the hard times. The house of 55 is also kept closely knit by gathering together each night for dinner.
MacroFuel and Brother Max Tave making news
Max Tave '15 and his classmate came up with the idea for MacroFuel last year after enduring the effects of missing meals and subsisting off energy drinks and cheap protein bars as a result of long nights studying in the school library. Read the Sigma Nu National blog story here.
Winter-break work continues to improve the house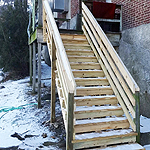 We continue to use semester breaks to make improves to the house and the living conditions. Over the winter, we replaced a large section of the back staircase and installed stainless steel in the kitchen. Check out the pictures in our gallery.
Social Networking